Alternate title is "oohhh, Shiny!".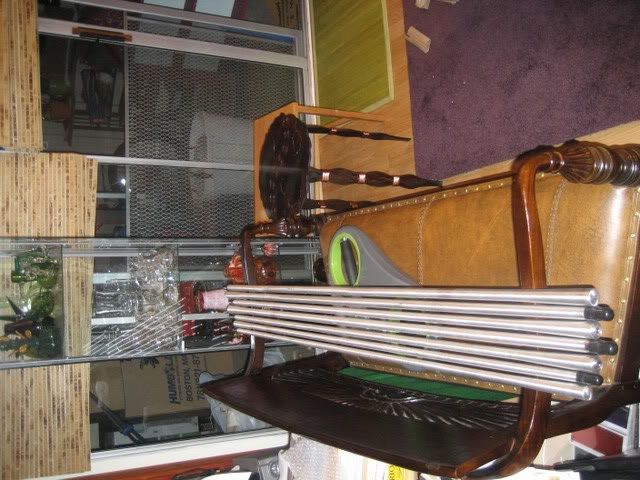 My glassblowing pipes came today! I'm still trying to figure out why UPS only charges $20 to ship 33 pounds of steel and packing in a 5' box, but $14 to ship 33 ounces in a nice, not unwieldy box. (According to my spell checker, "wieldy" is not a word.) At any rate, I can now travel to various other studios and do my thing. New pipes are good. Straight! shiny! In a matte sort of way...
Also making an appearance in the photo: cabinet of glass work,
BodyRev
, bench and table that will eventually go on patio once I get the remaining crap out of there. Crap: The moving box was unpacked, it's just my storage for "sell on e.Bay" stuff; the bamboo shades have a problem with the mechanism such that they don't hang straight, fixing it's low on the to do list; the trash can is for cleaning up the patio. Really. Any day now. But I'll probably put it off to make a carrying case for the pipes and go test them out.
Although it occurs to me that I should clean up the patio and make it nice before FW2 gets here. We might actually want to use the patio since it will be nice and warm then.
---
I also got some really tasty cherries. Finally, the cost of produce has gone down. I'm also trying to figure out why produce, like strawberries, are so expensive when they are grown about 15 miles away. My mom pays less for them in MN. It makes no sense. But cherries. On sale for $3/lb. I think I at a half pound tonight. Along with a fresh artichoke. Yum!