Hi, I'm Cranky Otter the Engineer and I am voting for Barack Obama. But I know that's not enough. Right after I resolved to absolutely do something every day from last wednesday to the election, I seriously stretched the definition of "something". One of the things I did was take a glass pumpkin to the lady whose house is Obama Central as a thanks to opening her home to dozens of strangers. I'd seen her huge collection of pumpkins of all sorts and figured Halloween was really the day to do it. I caught her in the process of putting away the bats and jack-o-lanterns, leaving the non-holiday-specific pumpkins up, and she was just thrilled. I'm so glad I did that.
I showed up again today for phone banking and was calling people in Indiana. The deal is you call and ask if they've voted or plan to vote tuesday. (Notice it's not a yes/no question, very clever.) Then you either thank them or give them their polling place address because studies show that people are more likely to vote if you get them to picture their polling place. In a sheet and a half of calls over 2 hours, I left 14 messages, had about a half dozen people politely refuse political calls, and spoke with more than a dozen people. One lady will really stick in my mind.
Per the script I started with "I am a volunteer calling with Barack Obama's Campaign for Change." She kind of cautiously said that she might be willing to maybe vote for Obama. "I was raised Christian, and I've voted Republican my whole life. But McCain is too close to Bush and Bush said something to the effect that his daughters would never go to Iraq." Turns out she's raising her grandchild while her daughter and son-in-law are serving in Iraq and she thinks they have a better shot of coming home alive with Obama in charge. Her relatives had called her a communist and a marxist and any other number of things for even suggesting a vote for Obama. I said, "ma'am, I call you an American," and I'm pretty sure she started to cry. I mentioned the polling place I had listed for her , and she said, "I can hit that with a stone, it's right near my house." And I think she felt better about voting for Obama. She may yet decide not to. But ma'am, if you ever read this, you made my day however you voted. Thank you and thank your kids for choosing military service with a glad heart, and I too hope they come home safely.
So, phone banking, check. But I think my blood pressure hovered around 180/130 all day.
That's because I woke up to find a "vote yes on 8" tag hanging on my door. On the minus side, grrr argh. On the plus side, I knew what I could do to try and make a difference that would allow me to sleep nights. I wrote up my own door tag about why people should VOTE NO ON PROP 8. I took it to kinkos and made 250 copies for the 200 units in my condo area and a few spares. I spent a while attaching bits of Christmas ribbon to most of them so they would hang from doorknobs. The lady at Kinkos thought they were pretty so I took this picture: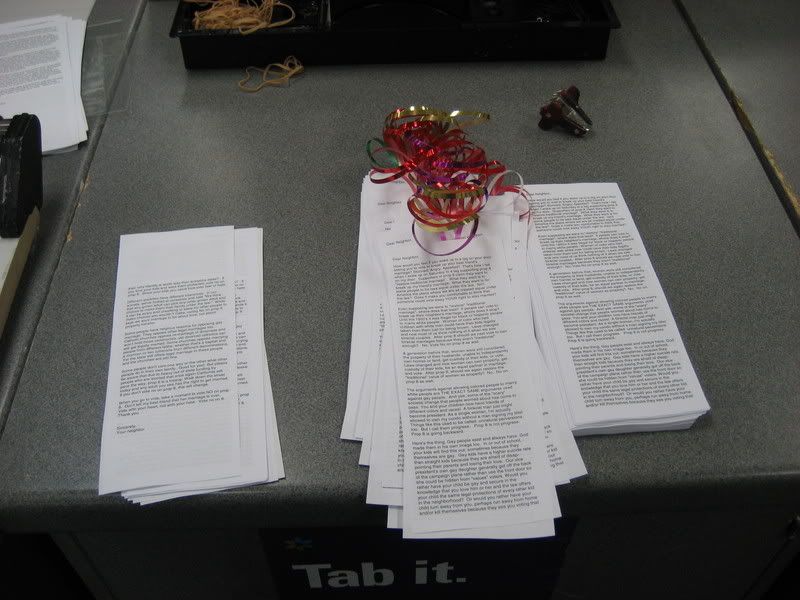 (She also assured me that she's voting no on 8 and the other lady making sushi menus had already voted no on 8. Yay!)
I made it home around midnight and in the dead of night, stuck them on everyone's door. My condo area is a confusing mishmash that is hard to navigate. I have a good sense of direction and I can still get lost here. Tonight, I was trying hard to be complete. I was pretty nervous as I didn't want to have any confrontations, especially after dark. I decided that there were a couple doors I would miss because a dog just would not shut up. But for maybe 8-10 doors, I got them all. It took just over an hour and a half. My blood pressure went progressively down as I realized I was actually getting this done and not just fibrillating about it in front of my computer.
At one point, a lady was out grabbing a smoke and asked if I was lost. I decided to risk the confrontation and told her that no, I was trying to put "No on 8" signs on all the doors. "THANK YOU!", she burst out. "That's so crazy! I've got 3 people at my house and we're talking about just this thing right now. We've got 2 yes and 2 no. Give me your stuff!" I assured her that I lived in our complex and I went back and did the upstairs doors before I forgot.
I wandered back by as their "8 Debate" party was breaking up, as I was a little lost, and the lady I had spoken with was starting to read my treatise out loud on the landing. Any regular readers of this blog know, it was a treatise with multiple paragraphs. The 3 guys there asked us to take turns reading it out loud, and despite one person being a firm "yes", they all listened all the way through (with a minimum of rowdiness) and said it was good. One guy said he was now firmly a maybe. The other guy had already voted no. Whew! I know *you guys* like my writing all right, but I only did 2 drafts of this thing and was in a lather doing it and that's not always my most persuasive stuff.
I don't expect everyone to suddenly change their minds if they're made up, but I've laid out my case as best I can in the time I had. I wanted to get it out before people left for church in the morning thinking that some would stuff it in their purse on their way out and maybe read it at church. I wanted to get it out as soon as possible after the yes tag came by so my neigbhors would know that there was more than one opinion in their neck of the woods. I tailored it for a multi-racial community and started it with "Dear Neighbor" which I've found is a good icebreaking salutation. Then I did my thing. It's perhaps not my best work and if I hadn't printed 250 copies I might be persuaded to tweak a few things. But in this case, I figured tolerably written and put on doors was better than Pulitzer work that no one saw.
And now, I think I can sleep tonight. Or rather today. I think I've done what I can.
If someone can tell me how to do a cutaway in blogger, I'll post the text too. And hey! The hour I just spend writing this just got reset and it's 2 again!