Regular food coloring does not make for good cake colors. It does ok in icing, but not in baked goods. So when I saw the picture of a bright rainbow cake on the web, I had to track it down. I've heard of the gel colors, but haven't really had reason to look into it, but this intrigued me. Then I found out it was made with a box of mix and a can of soda and I became obsessed.
My apron explains a bit of why I'm so excited about a psychedelic, neon colored cake.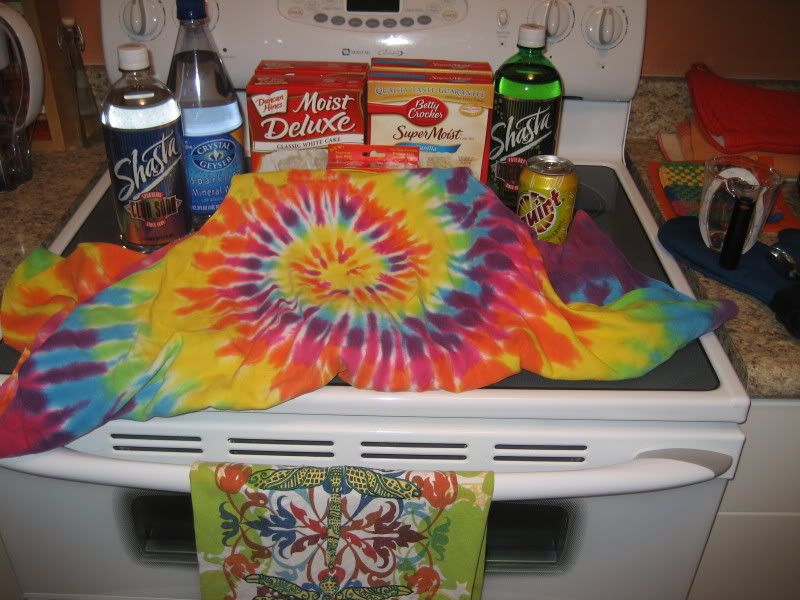 Rainbow Cake Ingredients
2 boxes white cake mix
just under 24 oz. clear/light soda (reg or diet) like Squirt, ginger ale, plain soda water.
Here's what it takes to make a rainbow cake - if you're also conducting an experiment. To just make it and be done with it, it takes half this cake, topping, pudding, and pop. Duncan Hines was 4/$5 and Betty Crocker was 2/$4 at Ralphs today so I got two of each just to see if they came out different. Betty Crocker makes the tubes of gel coloring, look in the frosting section, I had to have a store manager help me find it.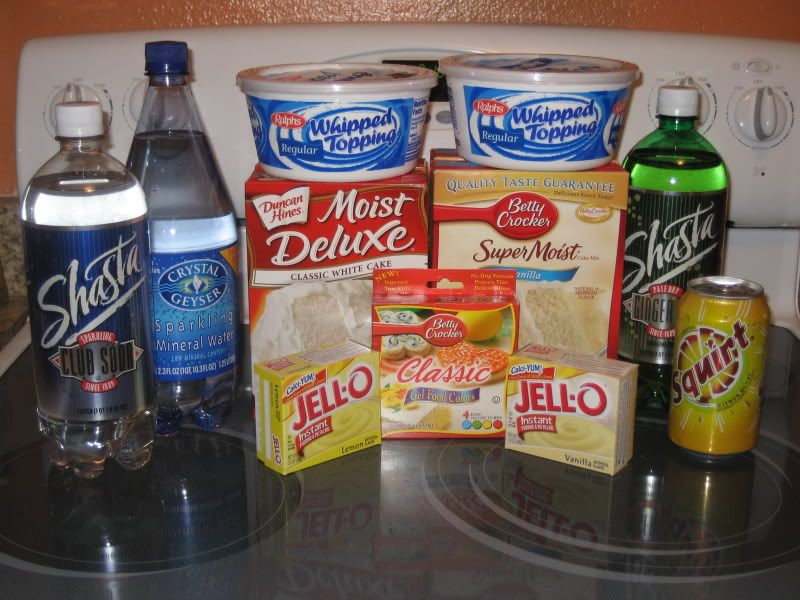 Click the picture if you want the gory details. It'll jump to a separate entry and load a whole load of pictures. This is the summary version, here.
The batter looked great and the cake looked just fine too.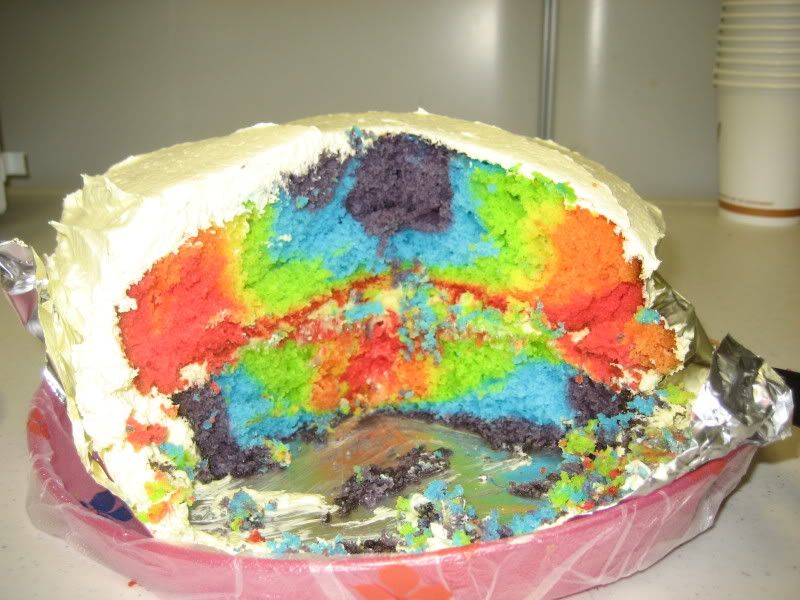 After finishing, though, I'd seriously consider adding
while the texture was light and moist, the cake was really sticky with a gummy finish, yet fragile. Yeah, that cake was cut with plastic knives, but it still crumbled like a sandcastle. I think replacing up to a third of the soda with an egg (per box) might improve it. But make no mistake, a box of cake and a can of carbonated soda - even just soda water - will net you edible cake batter that becomes an actual cake.
The Colors, the Colors!
Divide cake batter into roughly (or exactly) 6 equal parts in other bowls. Color mix/soda batter to desired red, orange, yellow, green, blue, and purple hue with gel colors. Betty Crocker makes some, look in the frosting section. Add 9-15 lines of 1.5" of gel color from the tubes or just eyeball it until it looks good. Do all colors before starting to fill the pans.
To get a rainbow, dump about 2/3 of the red in center one pan, slightly less than 2/3 of the orange in center of red, then half of the yellow in the orange. Similarly, Dump 2/3 of the purple in the other pan followed by slightly less than 2/3 of the blue and half of the green.
Then switch sides and continue to layer with remaining colors in order.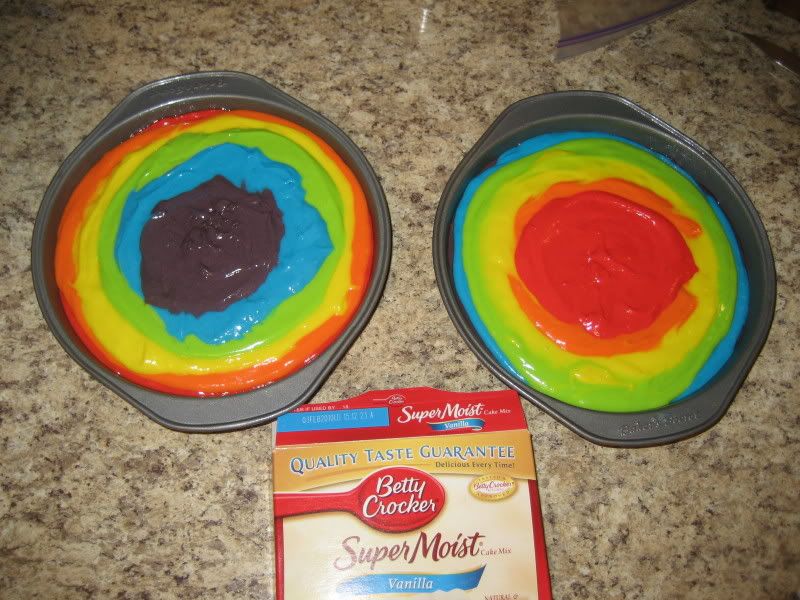 This method of regular and reverse rainbow order helps balance out the inevitable asymmetry of color usage. You can use a different method, scattering blobs or trying for even layers, but this method works to put every color in every wedge slice.
Baking
I decreased the oven temp to 325F and tented the cakes with Al foil at about the minimum time on the box for the pan size to reduce browning. And like this when they came out! These cooked about 45-50 minutes (18+15+15 on timer plus time to shift, tent, etc). I let them sit in the pan for 15+ minutes to solidify and make them less fragile.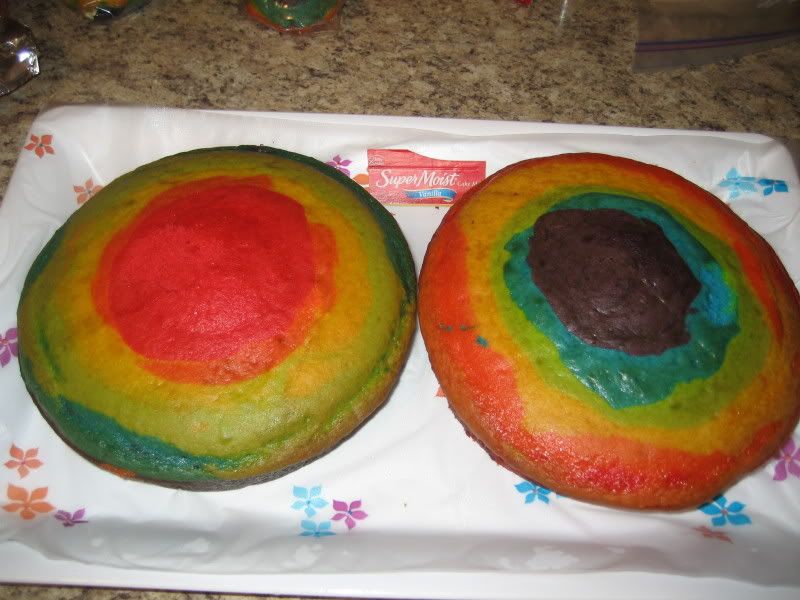 Soda Verdict: Before starting, I knew that diet soda was an option, but I don't eat aspartame. Apparently any light colored soda would work, but I wanted to know if it was just the carbonation or if it needed some of the other soda ingredients. From my tests, all carbonated liquids worked fine. I did not try any non-carbonated beverages. Squirt and Club Soda tasted the best, probably due to adding salt and the fact that Shasta ginger ale is nasty. It worked fine to make cake but did not add anything. After cooking, I think it all tasted the same. And I would add in an egg per box if available to see if it helped with making the cake less fragile.
Gel Color Verdict: The colors, they were glorious and entertaining. Gel colors are awesome.
Bake Mix Verdict: There was about 45g more mix in the Betty Crocker, which slightly overshot the "517g" listed on the package. Both cakes taste a little chemically to me, but not much and about equal. The textures appeared the same as did the color mixing and baking. For all intents and purposes I can't tell them apart for this application.
The Frosting
But wait! There's more! 2 more ingredients.
8oz. tub of non-dairy whipped topping (Cool Whip) at fridge temps or so.

3.4 oz package of dry Vanilla instant pudding

2-3 oz soda or seltzer (or milk, if it won't be sitting out long)

Mix ingredients in any order with your favorite mixing technique. Frosting should be smooth and form stiff peaks. Spread on cooled cake. (Repack in container and refrigerate if not needed immediately.) Carefully stack another layer on and keep frosting. If it's goopy add another T of liquid and keep going. Cut into your fabulous Rainbow cake and show everyone the pretty colors!
Pudding Verdict: Vanilla over Lemon, no contest. Lemon is tolerable; Vanilla is lush.
This cake, it is not organic. It's likely not even recognized as food by the intestines. It
is
pretty fun to make and eat. I had the notion that doing this could avail vegans of cake sans eggs, but the sorts of people who are vegans tend not to overlap much with the sorts who buy boxed cake mix and soda. (Much like those who eat hummus tend not to overlap with those who eat ham, and thus the world is deprived of quick availability to my favorite, the ham and hummus sandwich.) If you let your kids eat food coloring (some people have really bad reactions), it's an extra good project because there are 6 spoons and spatulas that need to be licked clean. And then it turns into cake.
Enjoy!