It's new tire week for this otter. After getting some nice Yokohama YK520s for the 3 which skitter a lot less than the Good.year Eagles (new and used), I decided to upgrade my bike tires as well. My buddy is in town visiting and we like to have brunch and go shopping. He's also a big fan of biking, so I figured we'd have brunch and go to the bike store that sells some really cool looking bikes.
The staff was very helpful. I asked what I could do to protect my sitting bones, pad my hands, and reduce rolling friction. And if it would be worth doing that or just buying a new bike. We went the upgrade route and for approximately the purchase price of the bike (as an end of season rental from Martha's Vineyard), it went from painful and difficult to ride with the big, cool looking, knobbly tires...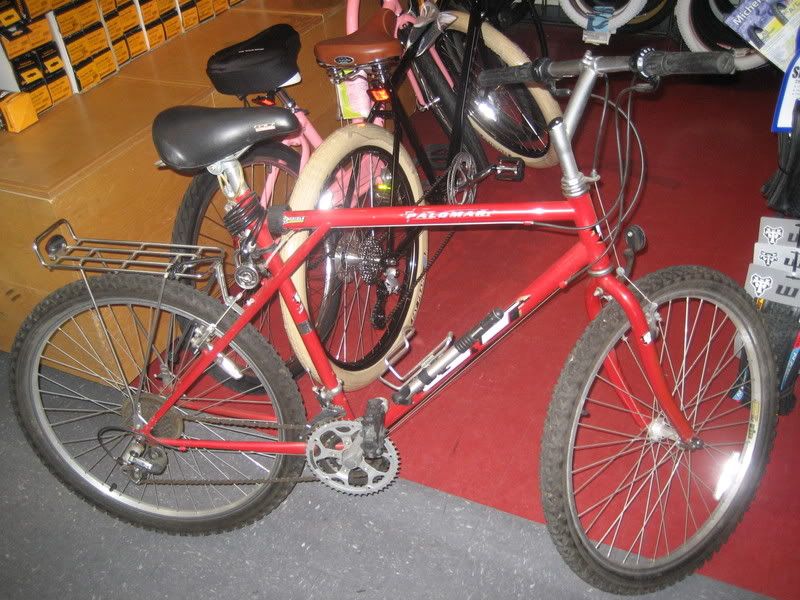 ...To being quite a pleasant experience to ride. Enough that I bothered to haul it in and out of the back of the car a couple times to play around on it. Previously, my butt would hurt almost immediately and even five minutes of riding would be felt for two days in my posterior. We lubed up the chain, too. Now the bike actually coasts on relatively level ground, which makes up for the fact that the tires look a little out of scale. I'm beginning to remember how it felt to like riding a bike.
While I like things to look cool if possible, form always has to follow function. If something doesn't function, it's worthless, or even worse - like my bike - a black hole of opportunity cost. Stuff that both works and looks fantastic is the goal. The bike now works really well and still looks pretty good with the new tires, seat, and handlebar grips. I think I'll be using it a lot more.
---
Flashback
After I picked up my buddy at the aeroporto, I wanted to hit up Indian Summer in El Segundo. But there were disembarking delays and I didn't think it would be open. I mentioned IHOP and he was down with that. (We had to eat in LA because stuff where I live closes early even on fridays, and it was 10:30.) I headed down Sepulveda and as we were closing in on the IHOP, I noticed the adjacent business, the "Stick and Stein". I had no idea what to expect there but we went with novelty and settled in at the S&S.
At first, we wondered what the "stick" was for. I guessed kebabs. J guessed kebabs with an New Zealand accent or corndogs. Turns out to be a pool hall and they were still serving food. We settled in on uncomfortable bar seats, then moved to a booth with a view of pool playing. Their food was much better than I anticipated, and they have my second favorite presentation of Fried Zucchini. (Claim Jumper has my favs.) The place has clearly been around for a while and seen some hard wear, as evidenced by this gem of a vending machine in the mens' room. Here you have it, the "Vend-A-Scent". Pop in a quarter, and get sprayed with Dra.kkar, Ar.amis, or Polo which will drive the dames wild.