Three times this weekend, four this week, I have driven from Ventura county, over East and down South to El Segundo, just south of LAX. This can take anywhere from 35 to 95 minutes, generally 45 in lighter traffic. I got stuck in the 95 minute version only once so I shouldn't complain even though I think I got a headache from it. I had checked out 2 books on tape for the NorCal trip though, and this gave me the opportunity to blow through most of the rest of "The Bean Trees".
The Bean Trees is one of my top five favorite books and this listen gave me a chance to remember why I love it even though the Lou Ann character makes me a little nuts. The way B. Kingsolver strings words together is poetic. The characterisation that finds something fabulous in the least loveable character, and the interaction with the world as a gift is something to be treasured. The scene where Taylor realizes who has been buying Edna Poppy her red hairpins gets me every time. And the ferocious thicket of bean viness that surprises people by coming up in the squash patch. It can get a little preachy, but it always makes sense in context. And it's a beautiful story of making your own life out of what you have.
But it was not just driving back and forth to no purpose other than listening to a story... On monday, I got to enjoy the sun and had lunch with my cousin J who was on her way back to Taiwan. Yesterday, I drove down in a pickup truck with no pickup to get my new sofa. I also picked up a new friend and potential date who had driven up from San Diego to help. (He's new in town and lacking for weekend activities too. We met in Sacramento.) After driving back up and unloading the couch, eating a quick lunch, and returning the truck, we headed back to his car. In the miserable stop and go 20mph afternoon traffic. Whether or not he ever speaks to me again will probably be dependent on whether or not he made it back to San Diego in time for a concert he was looking forward to.
I have a friend who kindly let me borrow the truck which turned out to be just right for hauling the sofa. I'm pretty excited about the whole sofa/ couch/ davenport/ sectional experience. It's incredibly hard to find a ready made sofa small enough for my space. I could easily build a custom one for $3K, but couldn't pay for it. I was just about to buy a not quite the right color orange sofa from IKEA that had not quite the right legs for a couple hundred dollars more than my budget, just to be done with it, when I found this little custom shop near the glass studio run by a couple of women. It took a little longer than planned due to my just right orange fabric being discontinued, but in the end it turned out to be just what I wanted. I'd been going back and forth between wanting orange or green. The final fabric I chose isn't just one color but is woven with varying bits of different colored and textured yarns although on the whole it looks light green. Here 'tis, with orange pillows.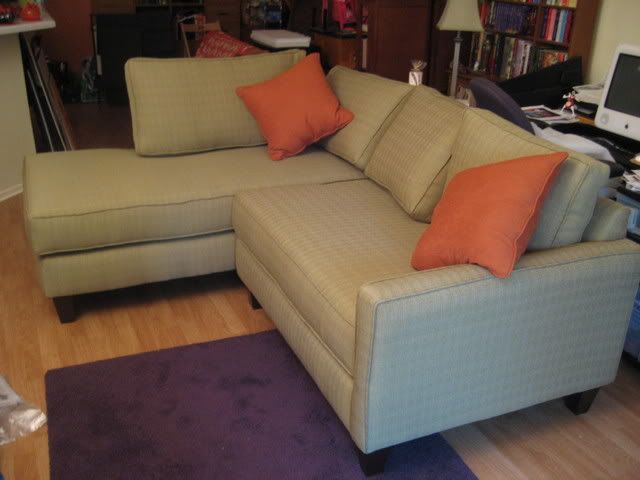 There is still a fair amount of furniture rearranging to do but it's in the house. Condo. Living room. My first adult piece of furniture that I didn't get at a garage sale, build myself, or receive as a gift. Well, this and the bench for the patio. All that driving wore me out and I had to take a quick couch nap. Just to check it out. Yep. Comfy too. Not too squishy, not too firm.
Today I woke up earlyish yet again and tried to make an alligator. I had the luxury of working with an assistant today who could bring me bits that I could make into legs and scales and eyes. It's clearly a prototype glass alligator and looks like an baby sea lizard - lips are fishy and the eyes are big and buggy. And it was good fun. I need to coach my assistant more on bringing bits
pronto
but it was good. I also made another pushup vase. If it looks good, I might have a home for it. I will have to go back to El Segundo to pick them up after they get done annealing. Maybe I should look for a boyfriend in El Segundo because that's there I seem to get everything else.
Back to the people though, I was planning to meet with my cousin M - sister to cousin J and the youngest cousin from our side of the family. I'm just about 10 years older than she is, and am the oldest cousin. We'd planned to meet in Santa Monica in the afternoon, but the schedule got pushed out. This is something I rarely have a problem with. Today it wound up being a treat for me because I was able to see my elusive and overworked friend at UCLA. I drove her and her gimpy foot over to the In-n-Out for monster fries and a strawberry shake. She may not clearly remember the outing tomorrow due to the pain meds for the foot but we had a good time. I left before she fell asleep in the fries and managed to arrive at the Santa Monica pier just in time to find good street parking mere minutes before my cousin and her friends came strolling up.
My cousins and I grew up in different states so we are something of fond strangers who played together for a couple for weeks in the summer most every year. I think we've all gotten more interesting with age. She is out here visiting with college pals and I crashed their dinner plans. We took a slooowww stroll down to the pier, poked the squishy sea cucumbers at the little aquarium, got our feet wet and sandy, pushed our way through a mass of humanity, then headed back uphill and six blocks over for some Thai food. We got in a couple of pictures and remembered to touch in at least one of them. It occurs to me now that we waved goodbye instead of hugging. Heck, even sofa moving boy got a hug. I'm hopeless sometimes :)
At any rate, I had a wonderful and packed weekend despite starting out with no firm plans. I saw the very good, but visually jumpy, Bourne movie! I got together with all sorts of people - new to me and not! I blew glass with an assistant! I got my new sofa! And I drove to El Segundo. Lather, rinse, repeat.