I had all kinds of ideas for baking in February, but didn't really let loose due to all the cooking (which is different than baking, and what an epiphany when I learned that). Nevertheless, I made my goal by squeaking in something at the end. My repeat baking was a Red Velvet heart shaped cake for Valentine's day. It was a modification to a white boxed cake based on something I saw Paula Deen do, and I figure if she does is, it's legit for southern dessert. Second was also on the southern side, if also just American: cornbread. I've made cornbread before, but not this recipe and never with buttermilk so I count this as new. It's another Cooks Illustrated "Best 100" recipe.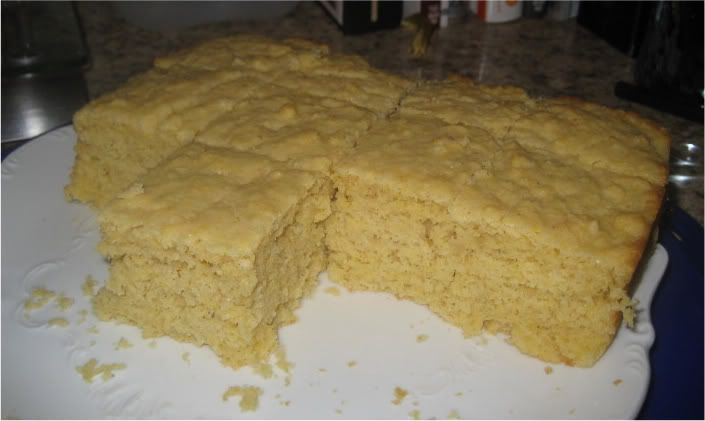 The texture is good, and the flavor is ok, but I think it would be a lot better if I could taste *anything*, which I can't so no fault to the recipe.
I've also gotten a jump on March's new recipe having whipped up a batch of Earl Grey cookies that caught my eye in the Martha Stewart's cookie book my friend brought for me. Since her boyfriend was also curious about them I figured I could send some back with her. Again, the texture is good and so is the sugar level in the dough, but I'm missing the bergamot and orange yet... I figured cookies were safe to cook for sharing given they get 325F heat which will kill my cooties. Still, some dough is in the freezer chilling in case my friend doesn't want me touching her food. The repeat baking for March will be my White Trash Green Pistachio Cake with Bailey's for St. Patty's day.
Dinner party wise, I'm counting saturday's as one of mine even if it was held at the neighbor's. I made stuff, met up with people and even though I was OMGWTFBBQ sick, I was not spewing-things-sick and everything I took had been baked or boiled. I took the cornbread, the roasted tomatoes with pesto stuffing, and half the beef stew from last weekend which had been saved in the freezer.
Health wise,
I'm finally improving, but still have yellow in the nose and eye. I went to the doc so he could confirm that I'm pretty ill and he okayed me being out until friday, or even monday, and filled out some paperwork for HR so my sick days come out of disability insurance rather than my vacation days. Damn but I've been sick. Sunday was a blessing, being able to be alert and not disgusting so I could show my friend around, but since then, bleh.