I'll be heading to NYC this weekend, coincidentally Easter weekend, to meet up with any number of friends and see shows. If we can get in anywhere, we'll also eat brunch. I'm not sure if I'll be able to pack an Easter Bonnet in my luggage, especially since I'm flying on American which charges evil baggage fees. (I would have flown Jet Blue but their reservations weren't working, and their customer service people refused to provide service.)
I've been up to other stuff too, thanks to another round of antibiotics actually making me feel better.
Saturday, I went out to a singles dance with my neighbor, whose mom just recently had her first book published.
The Language of Secrets
I haven't read it so can't vouch for it being worth a hardcover price, but if you're in the bookstore, look it up and check it out. It is pretty. As for the singles dance, it turned out to be for "over 40s" making me pretty much jailbait, but there were some nice folks there that we went to a late dinner with. Which netted this photo of a magic fork after a busboy didn't quite get everything in the bin.
More pictures and updates if you...
The library which has a surprising stock of appropriate books, so I've been reading up on small space design and storage. My organizer and I are plowing through my stuff so I have a better idea of what I actually need to store, which means looking at shelves. I've also plowed through several other romances, which I might go review on Amazon. They were all readable, which was nice, since I bought them.
I appear to have, TA DA!, found a toaster! I won an eBay auction - but the same seller was dealing another toaster that I liked better and is willing to swap for a small change in price. I'll let you know if it works. And which one shows up.
Speaking of friends, here's a distance shot of my Phoenix friend, with Phoenix in the background. This is part of the lovely "butte" view...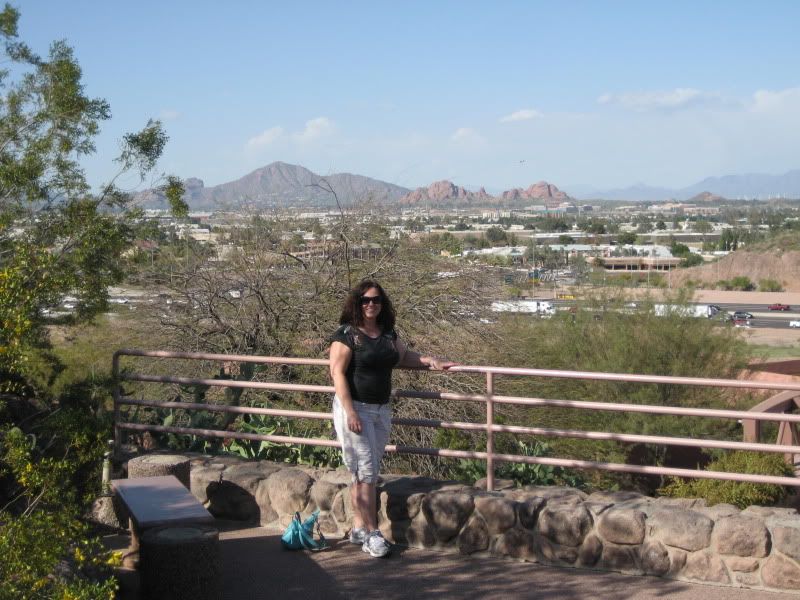 And I have baked up a storm this month. This here's the white trash shamrock cake I made for St. Patty's. You'll notice the green. Basically add Pistachio instant pudding into a box of white cake mix with specified ingredients, stir and bake. I also added Baileys and a gratuitous shot of green food coloring. The frosting is partially hydrated instant Pistachio pudding mixed with a small tub of Cool Whip. (1c milk, optional Baileys).
I also made some easy peasy monkey bread, but it overflowed into the stove and gave me practice scraping up the equivalent of burnt "tuiles" (/tweelz/) from the oven so as not to smoke myself out. It got eaten at work and was tasty though. (Frozen roll dough mixed with 1c brown sugar stirred into 1 stick melted butter and sprinkled with non-instant pudding and baked until done (or overflowing).)
Lastly, the Medical Spending Reimbursement admins are demonic this year. I submitted $2200 dollars for reimbursement and they disallowed $2000 of it. It's my own freaking money, you shits! It made me extra glad to get my new art, from the Phoenix airport, in the mail.
It says, "As much as I try
to be an easygoing
stretch your wings and fly type
I just can't stop
trying to burst people into flames
with my mind."
Anyhow, I was irritated, so to distract myself, I went to the movie theater that sells booze, had a glass of wine, and watched "How to Train your Dragon" in 3D, which cost aproximately $1400 but was worth it. Completely engaging and entertaining. I recommend it. It was charming, and will probably convince a few kids to pet wild animals when they shouldn't, but I'd still take them to see it. And I was totally going to blow off the remake of the Karate Kid, but it stars Jackie Chan (if you didn't say his name fast, go back and do it again, faster), and the trailer makes it look awesome, a sort of KKid meets Crouching Tiger, with humorous nods to the original.
So, that's rather a lot to throw out all at once, but it's now or never. I'll try to say something from NYC. Happy Easter!