Saturday felt laid back mostly because I had Friday afternoon off. I actually worked pretty hard for the afternoon, but it was fun too. I had a booth at a local event to sell some glass. Like so:
It was one of the dampest days I've ever spent in CA. No downpours this time, but a series of small showers, the final one about 10 minutes before I arrived to set up meaning I got a lot of grass and mud on my tires and undercarriage. Four hours later, and the sky looked like the Simpson's intro: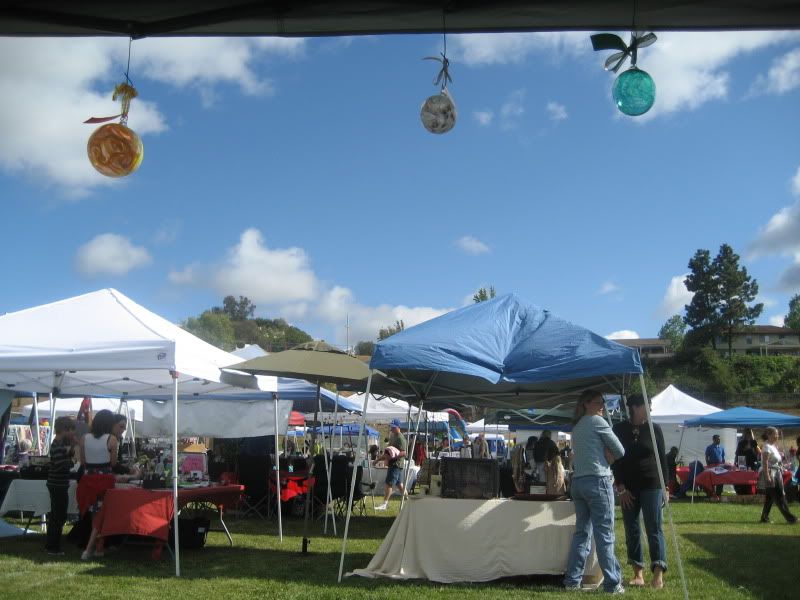 Whether due to the rain, the venue, the fact that it's the fair's first year to have vendors, or the police car parked at the end of my row, we had no sales. Literally. Almost everything bought was bought by other vendors, and that was scanty too since we had no traffic so no one was feeling flush. I got no one for 2 hours even wandering by. People came by later but claimed to not be carrying money. Whatev. I chalk it up to a learning experience and a day of fresh air. It did remind me how much I detest humidity but was otherwise pretty nice. The first tablecloth that got rained on and drenched was dry before I left, so it wasn't so humid that an east coaster would notice, I'll bet.
The booth buyin was $40. The Tupperware cake carrier was $30. The Pampered Chef garlic press was $17 n change. (They were on my list, I swear.) $20 for a month of martial arts with a personal training session. Plus a half day vacation time and $150 in studio fees to stock up on flowers. But all in all, it was worth doing because I learned stuff which would make me more prepared and organized for my next sale. And I got time to stick ribbons on the remaining unstrung ornaments. I found a good dremel bit for dulling the sharp stem ends, and confirmed that the cordless dremel is a good thing to have on hand. I'm convinced that if a tent is not provided, I will want to provide one even if glass looks better in the sun. It wasn't a cheap lesson as such, but it was not unaffordable nor altogether a waste of time. It helped that the PC vendor gave me play-doh with my garlic press and the lady selling hand decorated grocery bags next to me was cheerful and chatty.
Plus, I managed to convince myself to put away everything last night so today was super relaxed. (The concept of not being done until things are put away is still kind of foreign to me.) I got up at noon and organized the purse (prev post). I took all the trash out of the car, organized the trunk, and got the car washed. I settled into the freshly washed and gassed car and took off up the freeway. One of the Starbucks' CD compilations is on rotation in my car. It was a fun soundtrack as it went from "If you always get up late, you're never gonna be on time." Good thing I didn't have to be on time. I can't tell you how tempted I was to just keep driving to San Fransisco every time I saw the mileage sign, while listening to "Temptation". Then taking these photos, mostly out of the sunroof, while listening to "I can see clearly now the rain has gone".
The open road, the Pacific, some funky clouds, and cliffs. The darkest stripe of cloud actually looked like a gentle horizontal tornado for good while.
Seriously, one can get quite the moment of zen along this stretch of highway.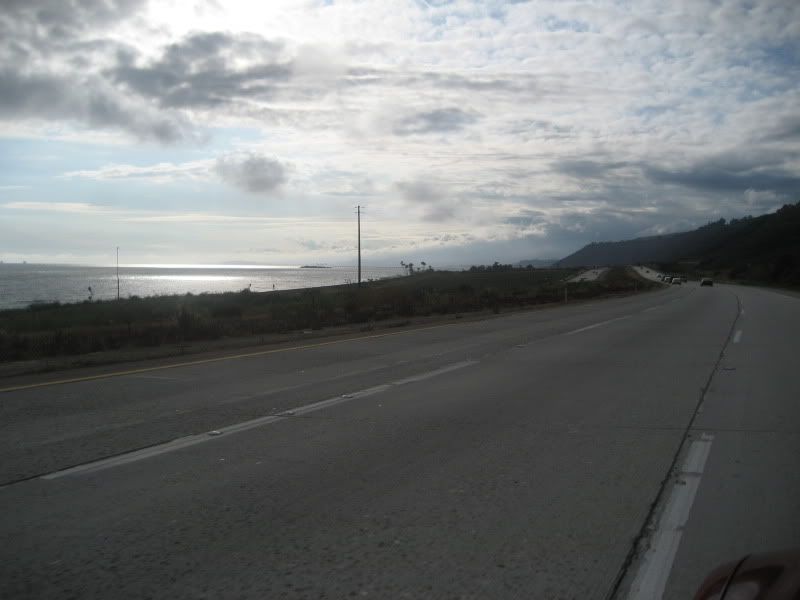 The hillside that's a dark silhouette above looks more like this in light. It's not for no reason this area gets mudslides when too much water is added to such a structure.
I managed not to drive to San Fran, or even all the way to Santa Barbara. Instead, I got off on several smaller exits and drove around a bit, exploring. I found some extremely large, elaborate, well fenced beach homes. Elsewhere, I was able to find this stretch of beach.
To get to the beach you have to scramble over some rocks like these, there is no path down from the parking area. As I was snapping this photo, the guy next to me poked me to get my attention and pointed out a pod of dolphins jumping around not far away. Several leaped completely out of the water, as seen on TV! The rarity wasn't the dolphin maneuver, but my being there to see it.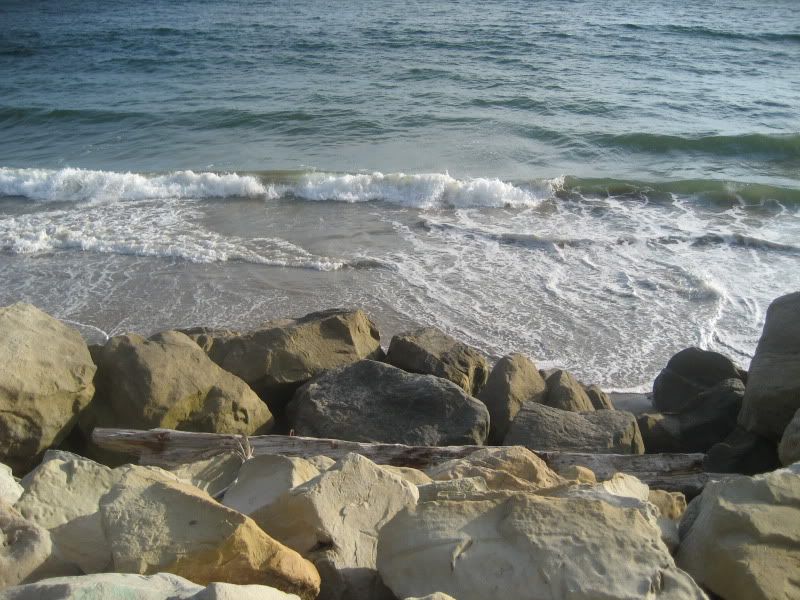 Lastly, picture wise, I had stopped along the way at a couple of roadside stands because I missed the farmer's market this week to go pick up the glass I didn't sell and it's cherry season. I think they send all the pretty cherries out of state. This batch of cherries had a lower incidence of what I call the parasitic twins, but there were still quite a few.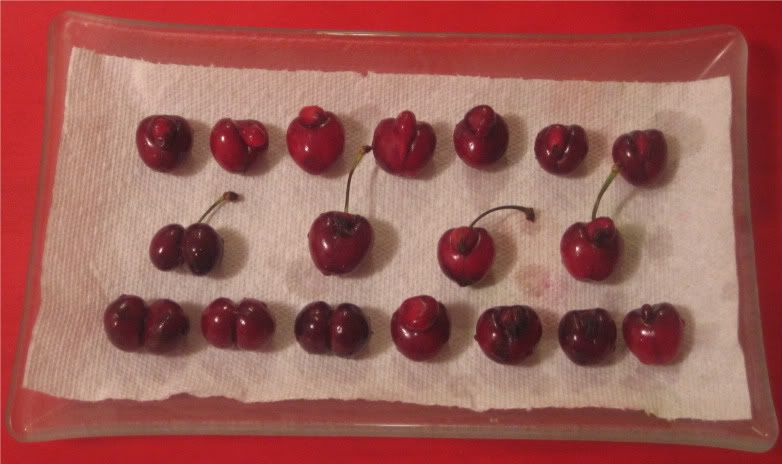 While some of them fill out equally and look like a ripe, red, monkey butt, most are asymmetric and look like these Skeksis.
From another angle, they still look a little disconcerting, don't you think?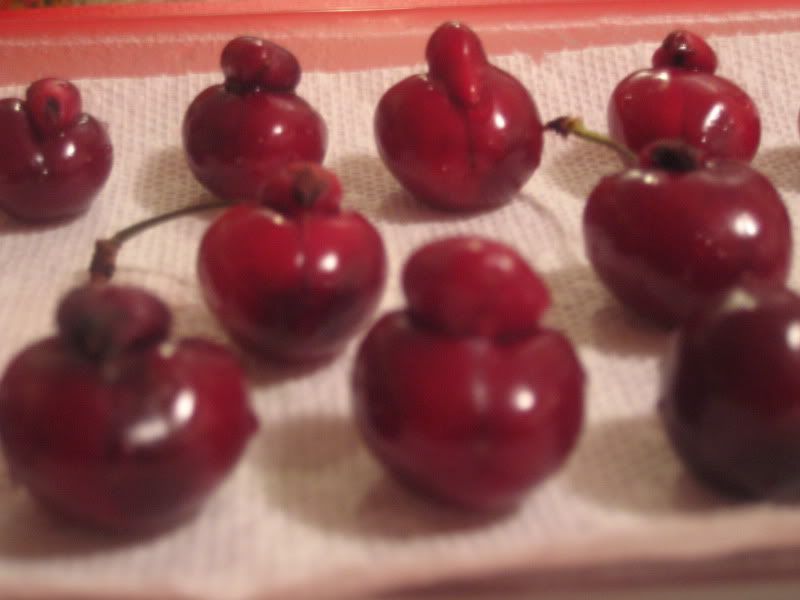 To round out the day, I managed a good chat with people at the bar when I stopped for fried scallops, then redeemed a coupon and a dollar fifty to finally see Star Trek on IMAX. I gave in to temptation to buy fresh strawberries and cherries and take in the scenery of the open road. Another lazy Southern California day.