I went shopping for undies and bras today. Since I got laundry in the condo, I'm no longer on the "buy new instead of rounding up quarters for laundry" plan. And I'm running out of good underwear. I'm rather down to the stuff I set aside because it fits weird or is plain and boring or just plain ugly. Mostly, I like to wear nice undies. But they've been having some issues. Like the red ones, so: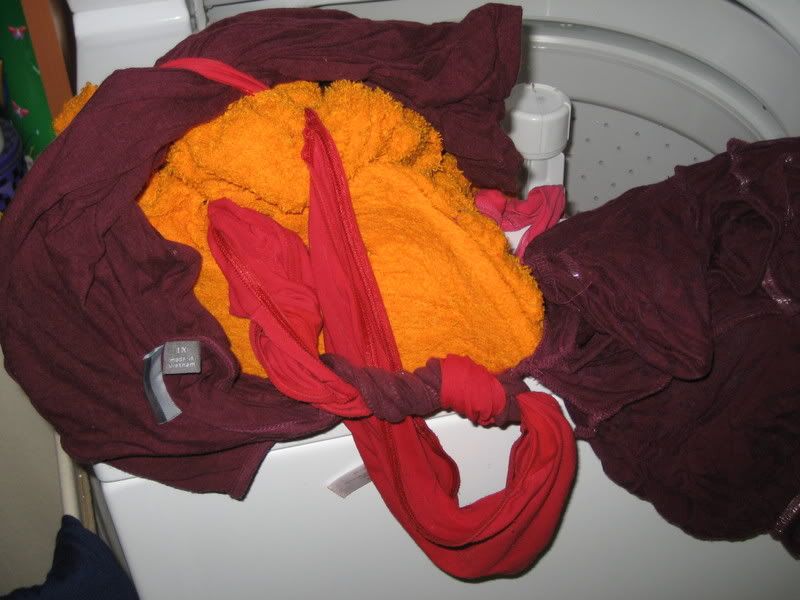 So I need new ones. Generally, I like the fit of the Lane Bryant ones, and they tend to be flirty, but they left the local mall recently so I'm outta luck there. Today, because I parked near there and they sell it, I tried my luck in at Macy's. I hope to tell you, I've never seen such a collection of granny panties before in my whole life. But they did have about 3 or 4 dozen racks of bras. I asked the salesladies for help finding my size, which I'm convinced is the bra equivalent of the collosal squid. I would say the unicorn, except that they were able to find me 4 bras. Ok, 3 different styles one of which came in two colors. Of dozens and dozens and dozens of styles, they had 3 in a 40B.
Thankfully, another plus sized shop opened up, but despite being named "Torrid" their underwear selection was way more paltry and a lot less sexy than Lane Bryant. I did get three pair there, one of which has panda faces on it. I vetoed the biker style skulls or the white with dangly charms. But that means I now have 3 pair of cute cotton panties instead of 3 pair of flirty, silky panties. I asked about my bra size and was assured they carried it, but they only had a couple in stock. DDDs they had all over the place - once you get to 40 apparently you're expected to have a rack and a half - but once again the Bs were scarce.
So I'm done with the mall. I'm just going to head back to Mecca after work this week. I don't know who made the decision that Target is going to carry 40B bras and sexy undies in XL, but I love them for it.