So the boy keeps saying he'll help me with my cabinets. He's a little flaky about showing up for things so I haven't been holding my breath. But he got all fired up to help this weekend, took a half day today, and significant progress was made. It looks FANTASTIC already!!! I'm so exited! (I just can't hide it.)
Here's the starting point. Notice the canning pots and Zojirushi "gourmet d'expert" and various trays on top of the cabinets because there's no interior space in the kitchen that fits them. While I like the color enough I had it matched to get the living room neutral wall color, I'm not so keen on the 1983 styling. But mostly it's a problem of my stuff doesn't fit in them.
There's a narrow vertical cabinet that is a 1/4" too narrow for my lazy susan to fit in. I use that lazy grrl for my cooking oils and whatnot. It has been living in my pantry and baking supplies and candy sprinkles lived by the stove. Not handy. No sir. I've tried going without the spinner but I knock stuff over. I tried to find a smaller one, but then the fixed shelf was in the way too. Plus the doors are odd. On the left, even though it's more functional to have left hinges on both doors, it feels awkward every time I use it. I'm all for function, but this was just weird. See?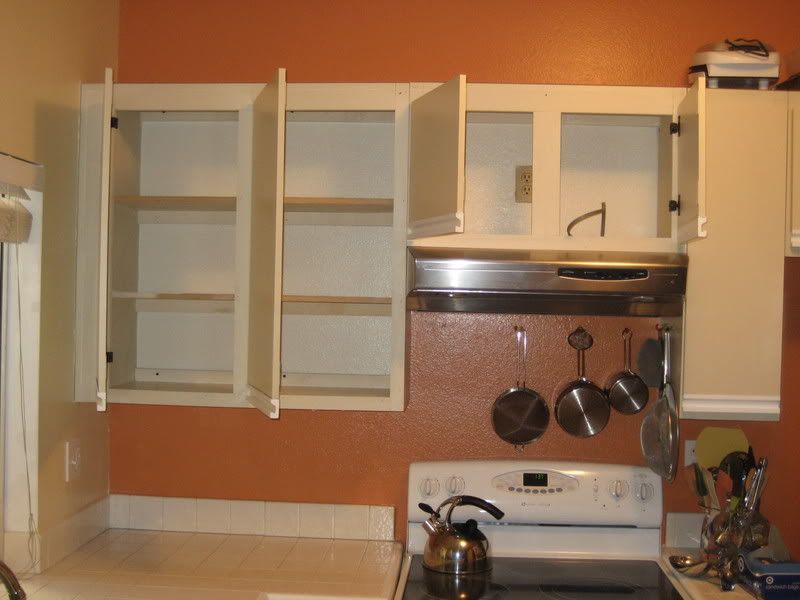 Prior to today, my dad and I assembled the 3 cabinet stack for the upper left corner. Yes, those drawers are sideways. See, I'm all for odd, but not awkward. I'm going to use those as pull out spice racks. If too many people think it's just nuts, I'll fill in the holes before I sell.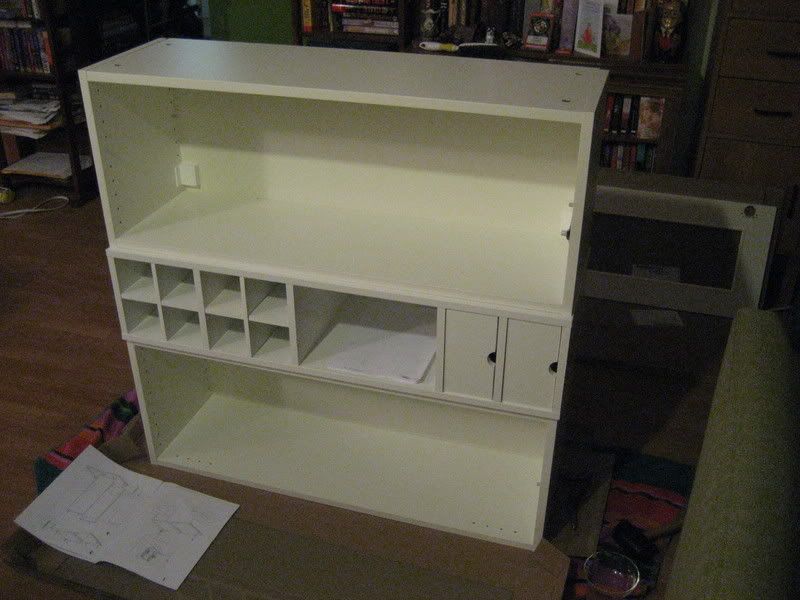 Then dad and I did some tourist stuff and hung out. He patched some walls and did other projects that required time and being handy. Instead of putting cabinets up, I took him out to Brophy Brothers and he got the platter that would probably put me into anaphlactic shock, but looked excellent.
Today, I decided to start at the corner where I already had cabinets built. We managed to pry the old cabinets off, but it was tricker than expected because we couldn't see all these nails from the front.
The boy and I got going and realized we should probably start with the over-fridge cabinet as that would set the height for all the others. We assembled that cabinet in no time! Seriously, like the whole cabinet was together in the amount of time it took me to put the backs on those other cabinets. So we did the adjacent cabinet and that was superfast too. It probably helps that the boy has mad carpenter skilz since he used to be a cabinet maker. Handy :)
Then we had to take those cabinets down, but by then we knew some of the tricks with the nails, and here he is cutting away the several layers of paint that also didn't want to let go.
Finally, success! All my upper cabinets have come down and are in the boy's truck to go away. We've started putting up the cleats that IKEA cabinets hang from. The one of the left we have to move up a little tomorrow...
Of course, the other side of the kitchen doesn't look nearly so neat. Most of the cabinet contents are in the living room, but some of them and tools and boxes of doors and all sorts of stuff make a rather alarming still life.
With all the demo and constructing and quite a bit of measuring and hoisting, the first two (2nd and 3rd of the kitchen, 1st two of this wall) cabinets are up! That over-fridge cabinet is a
heavy monster
. I can fit in it with the doors shut. Even better, so can the "gourmet d'expert" and my cookie serving trays. The deeper cabinet fits much better in the space and looks great. Due to a little learning curve, we had to mount it twice. And now, miracle of miracles, I can actually fit my cooking supplies next to the stove!
And here are the cabinets with the doors shut to show them off. They're IKEA Adel White. I love the cherry too, but it was too dark for my cave. Also lets me buy white appliances. I was worried the tall cabinet would be too close to the fridge, but it's just perfect. Had I gone 12" instead of 15", I couldn't get it with glass, which I really wanted. You'll see why when I'm done. In the meantime, kudos to IKEA for engineering mostly straightforward pieces that are easier to put together correctly than not.
Ta Da! I'm not quite sure the picture captures just how great these are, what with the extra paint and tarps still in place, but if I waited, you might never see them. And the boy's got to come back for more, since I can't kiss him with the tonsillitis going on, and I think he deserves a big smooch. I took him to Brophy Bros too, but it's not quite the same.