I may not have mentioned it before, but I love to bake bread. I find it easy, and I love to knead. Like beer, it needs only 4 ingredients: yeast, flour, water, and salt. Everything else is optional except heat. Heat is also important - warm for rising, hot for baking. From there, it's mostly a matter of waiting it out. The only bread I ever made that I couldn't eat was the pepper-cheddar loaf where I used 1T fresh ground pepper instead of 1T peppercorns, freshly ground. The racoons thought it was lovely, but it was hotter than vindaloo for me.
Anyhow, one of the breads I least like making is pancake batter because it is pesky and ephemeral. Doesn't matter if it's from scratch or Bisquick or your favorite mix, I avoid making my own pancakes. But I like pancakes and thus go to IHOP. Even more than pancakes and waffles, I love funnel cakes with an unholy passion. I allow myself one a year from a fair, or it's likely I would be made entirely from funnel cake (and salad). Imagine my surprise when I watched a Good Eats episode and learned that Patê a Choux, the same batter used for eclairs and cream puffs, will also make
funnel cakes
. It looked easy.
In a fit of drunken baking, I took the recipe I copied directly from the TV show on thursday, and came home after happy hour on friday thinking the only possible way to spend the evening was making funnel cakes. Of course. And this only confirmed it's just about the easiest, fastest bread ever. It is not good that I know this.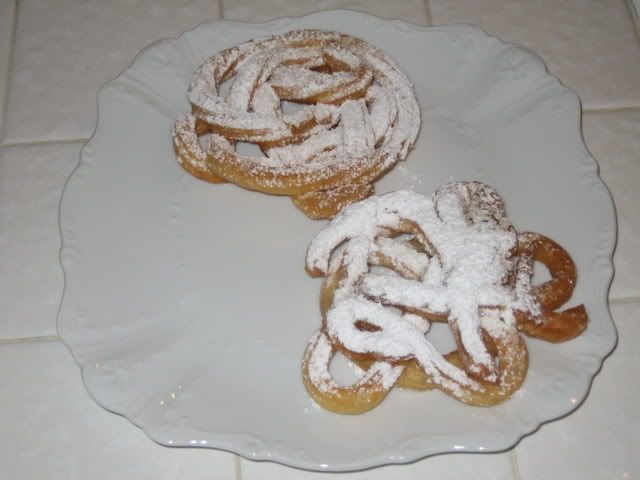 Yum!
Then today, I headed off to the glass studio to pick up some ornaments. The manager is sick though and was still asleep so I decided to go look at appliances by way of killing time until he woke up for real. On my way to the mall off Topanga Canyon road, though, I ran across a craft fair. Like buffets, I should not be left alone at craft fairs. I cannot be trusted not to overindulge.
There were tons of people selling glass, but mostly dichroic or stained. The one glassblower had some nice stuff, but made terrible pumpkins. Tall vases and bathroom sinks he could do, and he had some fun cherries with long, tall, hard-to-ship stems. But I feel good about my pumpkin pricing and quality. I also spoke to someone who does the most unique fused glass and metal sculpture - she was fun and talented. I wish I could afford her stuff.
I actually managed to avoid
over
indulging, by finding a lady selling these fantastic cloth books for kids, and just buying enough for, well, everyone. They are all interactive and not lame. I fell in love. I have a lot of kids to buy for (since I'm still not convinced "baby's first glass ornament" is the best way to go). If the parents or kids don't like them, feel free to send them back and I'll play with them some more. So while I probably shouldn't know about these either due to my desire to own them all, I think I was somewhat restrained-ish, but let me tell you, that vendor loves me now. Here's what you parents can expect in your mail box this year: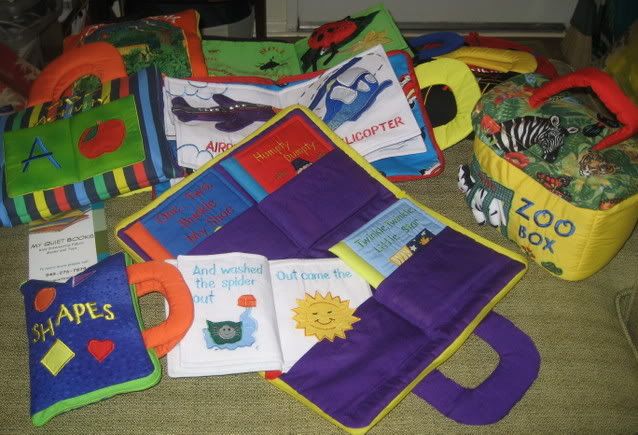 Click on the picture for the website. I never did look at appliances, but I did get my car washed, finally!, and my contract ornaments and witch balls look good, so it was a good day all around. Even if I just spent all the money I just made on the glass by "reinvesting" it in art.