I've just heard an NPR interview with Andrew Weil, where he didn't sound crazy. He mentioned the things that can help reverse or alleviate depressive sypmtoms:
- Vitamin D (check)
- Anti-inflammatory food (sometimes)
- Anti-inflammatory supplements (sometimes)
- Anti-inflammatory medicines (sometimes)
- regular exercise (check, sorta)
- writing down things you're grateful for at the end of everyday for a week. (hrm. that sounds familiar.)
Today was Excursion Day. A friend, formerly "friend of a friend", puts together excursions to LA points of interest roughly once a month. So it came to pass that I get together with a bunch of folks, or just a few, from the OC including a book club friend. I really enjoy seeing classic Los Angeles bits of history. Category, effort, and frequency wise, it's on par with going out with a good Boston friend on local area hikes, which were often in historical locations.
I'm grateful for friend K for taking me into the excursion group on the say-so of my internet book club friend. I enjoy the company and the new things I learn. I'm grateful to have a replacement activity for something I used to enjoy but can't replicate exactly.
Today, I learned that there's a little hill in Los Feliz, adjacent to a space where I once lost cell signal
four times
while talking to another book club friend in Alaska. I was quite surprised to find I had been literally across the street from this location and hadn't realized I was standing by a little slice of decaying heaven called
Hollyhock House
.
Hollyhock House was the home and vision of Aline Barnsdall, who identified with the flower as a strong independent sort. By virtue of an oil inheritance, she was independently wealthy, never married (did have a daughter) and was able to produce art. Olive Hill was envisioned in the 19-teens by Aline as a place where she could have a house, a couple of theatres - one "regular" live, one new "cinema theater". Also there would be housing for actors, studios and stores along Hollywood Blvd and parkland around the estate with 360 views of the LA basin from the ocean to the mountains. Today, the view south is blocked by a large medical facility, but the north has two icons in one: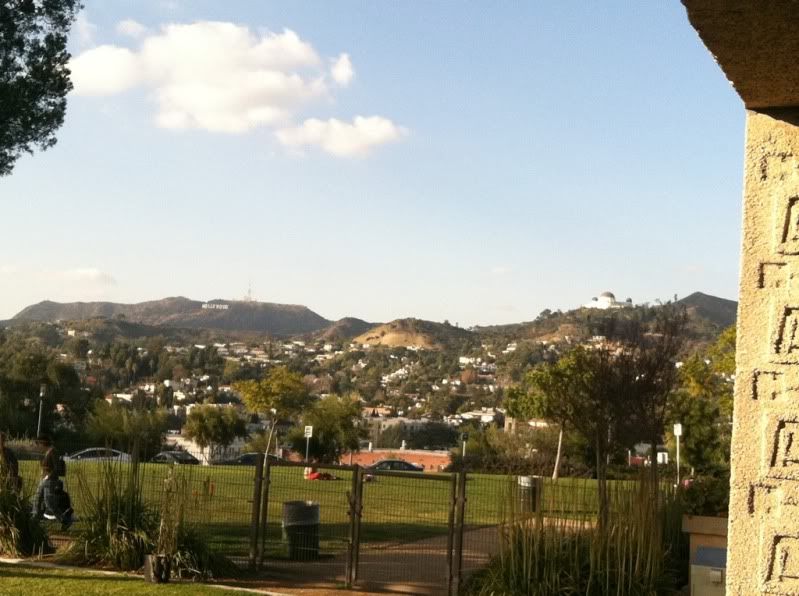 From the rather egyptian crypt-like art deco entrance arbor, one can see both the Hollywood Sign, and Griffith J. Griffith's observatory (where more people have looked through a telescope than anywhere else on earth). If you've come to visit, I probably took you to see these things - it may have been a drive through or we may have gotten out. Now, we have another viewing location - if there's parking! I parked on a side street that looked close by on my Google map. And it was, but I had to hoof it up about a hundred stairs.
I'm grateful that I was able to huff and puff up the stairs, more so since I had to miss dance today, and even though I was reminded that I used to walk up that many stairs pretty much every day. I'm grateful now for my first floor abode, but I do need to find myself more stairs. Today was a good start.
Frank Lloyd Wright did the design for this enclave. Only part of it ever got built, then there was some backing and forthing with the city on ownership, and like most of FLW's architectural masterpieces, it has issues with decay and self destruction, not to mention the havoc wreaked by various owners. The place is currently half under scaffolding, giving me some flashbacks to Rome the summer before they hosted the World Cup. Nonetheless, there was still evident beauty.
The house itself is highly art deco, but with the FLW twist. Long, low ceilings, which I dreaded given the resemblance of the exterior to an Egyptian or Mayan tomb, wound up being kind of interesting and not prevalent throughout. The least covered side is the western view. The spiky designs around the edge of the mansard-ish roofline are art-deco stylized hollyhocks. The water feature, which also goes in to the fireplace area, is not currently holding water.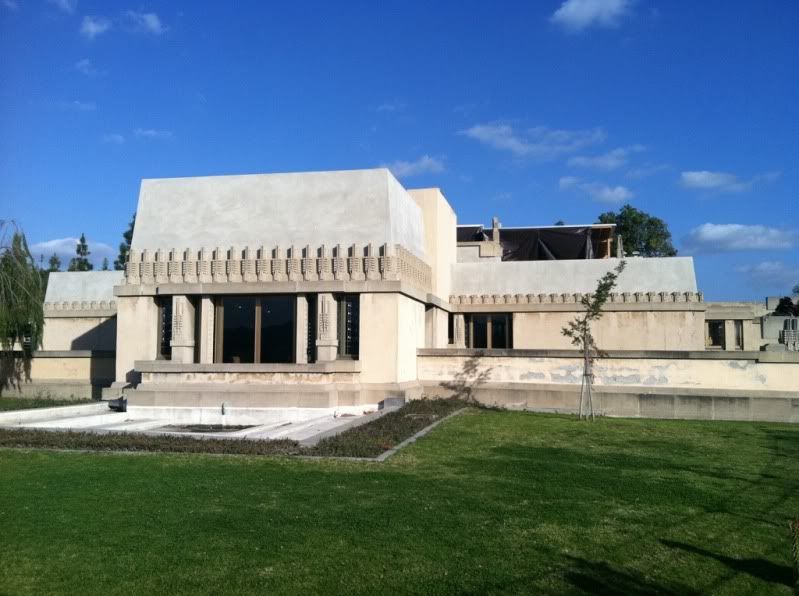 On the north side, the Japanese garden next to the entrance "arbor" which is through the "pierced screens" (wooden slat trellis dividers) on the right. There are some really fabulous stained glass windows on this dining room. The balance of viewing window to stained glass and arrangement of design really worked for me; minimalist enough to be functional and not overwhelm when used in repetition, decorative enough to add interest, well designed and well placed enough to really work in the space. And I'm a sucker for clerestory windows.
The backside of the house had a playroom with more of the great windows. Due to scaffolding and muddy lawns, this was the best angle I could get. The website probably has better. But I could get used to having these windows around.
Inside, the somewhat odd docent explained that FLW kept the ceilings low where he wanted people to move, and heightened them where people should settle. That did work in the few rooms we saw in the house. The built in storage was excellent and well integrated (he didn't want folks buying an ugly catalog hutch to put in his house, apparently). The ceiling in the living room is a marvel. There's uplighting all around, and it's not just a vault or arch, but a multi-angled, multi-surfaced affair which just suited the space quite well. (Insulation might suit the house well too, but one must suffer for art.) The funky moat around the fireplace was drained, but they'd had the furniture re-created. I was struck by how there were about 6 desks built into the sofas, probably for artists to spend time creating there.
I'm grateful for finding something about Frank Lloyd Wright's designs that worked for me. There was some true genius in that design, even if there were places I would have bonked my head. And true to the original intent, the city has erected buildings for art, theater, and dance at the top of the cliffs of insanity stairs.
All in all, it was a really good day. I saw friends, I saw art, I had a burger from Umami burger that was funky and ordered without eliminations or substitutions of ingredients (one of my rarer small joys). I was able to stop in and see another friend on the way back and swap the book I read for the next in the series (
Kushiel's Dart
-->
Kushiel's Chosen
by Jacqueline Carey). I stopped at the grocery on the way back to pick up noodles to pair with a stew I made last night, and found some standard items on sale, so I saved about 40% on my standard pantry/stock items and even remembered my noodles.
Today was a good day.