And what they have is redness.
Here's me during surgery: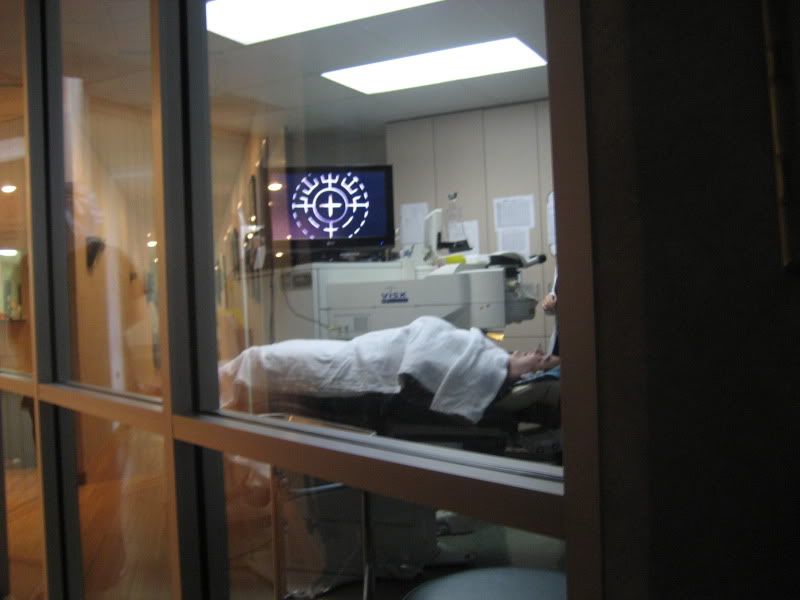 ( I have a DVD of the process. I haven't looked at it yet. Still too fresh.)
Eye pictures after the jump.
Before, with the aging Kate Spades.

At the next day followup appointment, shortly after waking from a drug induced stupor:
Later on "Day After" eyes, a little worse than a hangover, starting to look scary

How I rig up to sleep. The inner bottom holes are in the way for reading in bed. They may have done that on purpose.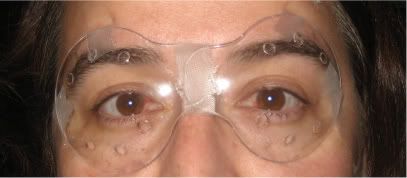 They're looking better today

I've been doing all they eyedrops and not touching my eyes much, but today, my left eye started getting some double vision so I wonder if I mucked up my lens placement. I'm going to add yet more drops and go to sleep and hope for the best. i really, really, really don't want to do that surgery again. It was not painful, but it was rather more traumatic than I'd expected. And wearing the shields makes it hard to read in bed.
I've been updating twitter as I go along, if you're just reading the blog entries, look for the "otter pops" sidebar, if you'd like more.