There are not really any pictures from rafting - I have the pic I bought of me looking too serious in the big rapid, and maybe my friend who'd brought a disposable camera will send some shots my way, but while that's lingering, let's look at food. Turns out I'm not the only home canner this year. I brought a jar of plum jam and my friend had made apricot and strawberry. Funnily enough, they're all in different sized jars. Breakfast was delightful, like so.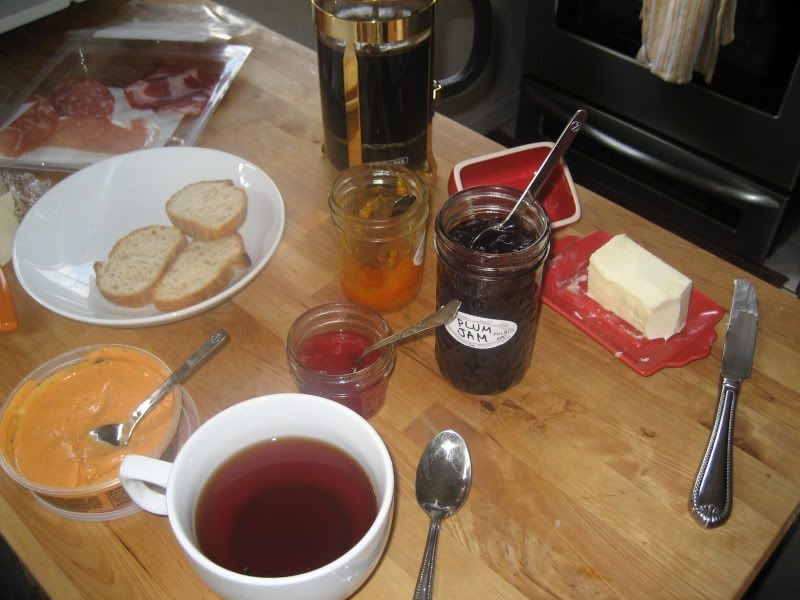 There are more pictures of happiness thru food if you click through.
I've never been a huge fan of cupcakes, mostly because I like the cake better than the icing and they almost always have a preponderance of bad icing. These were different. Jennifer Weiner brought cupcakes to her booksigning for "I'll Fly Away" and the one I had, lemon, was delicioso. Marvelous, even. It was marked with green and pink circles on top. I'm pretty sure the bakery is "Sprinkles" (fun name for cake bakery, not so much for a cat).
I really thought they'd go faster than they did. Turns out other people have more self control around cake than I do. Plus, we'd gone to see JW and she'd left us in stitches. Probably some people were still laughing by the time I got to the cupcakes.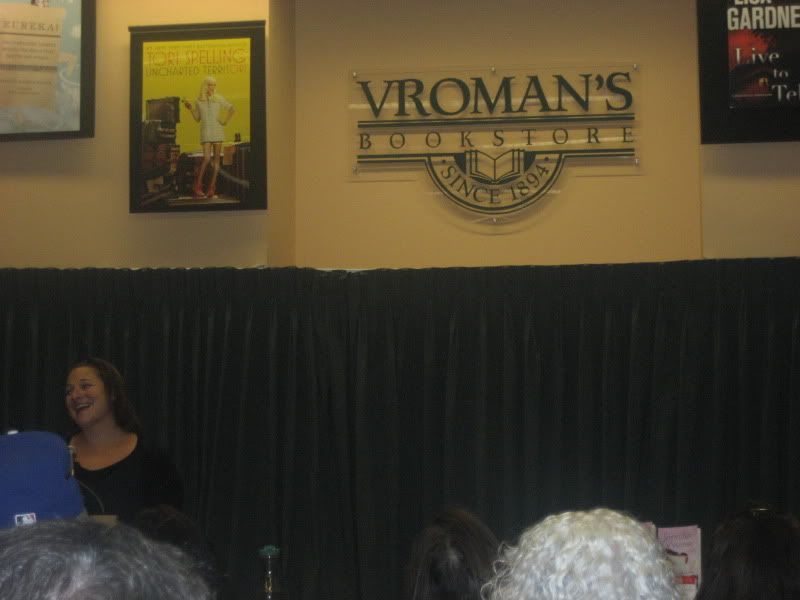 In other news, while I own stock of Costco in my 401K, I've never been in one. Well, until recently when my co-workers decided to have our group lunch there a couple weeks ago. So here it is, my first purchase at Costco: $3.15+tax. Cheapest group lunch yet.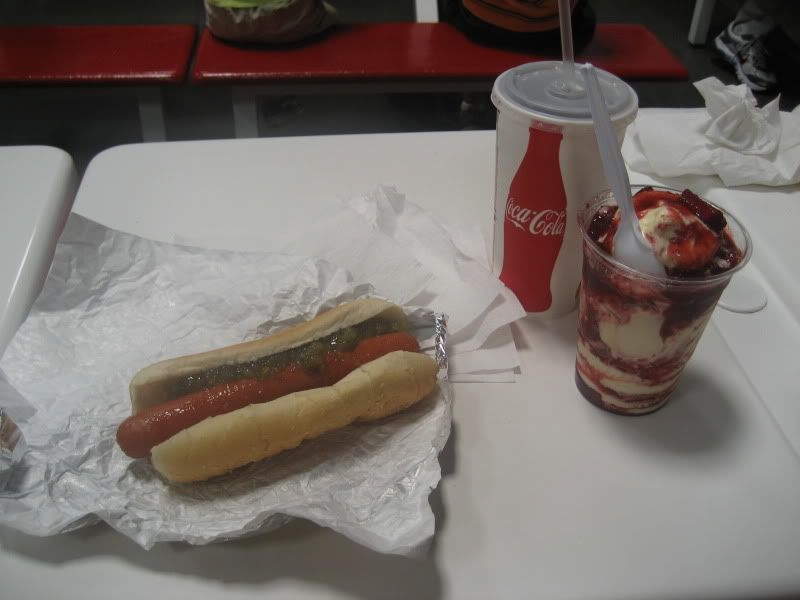 But if you want to see meat, my equipment engineer had me over for smoked/grilled ribs and tri-tip. You can see one of the tri-tips has some fresh looking meat. That's where I got sauced on tequila and started cutting meat off while it was still over the fire. It's a good thing I did that as I passed out before having the actual meal... But still, here he is, tending the oak grill (as opposed to his charcoal grill or gas grill or older oak grill). The grill bed winches up and down to change access and adjust heat. Pretty cool, eh? Delicious too.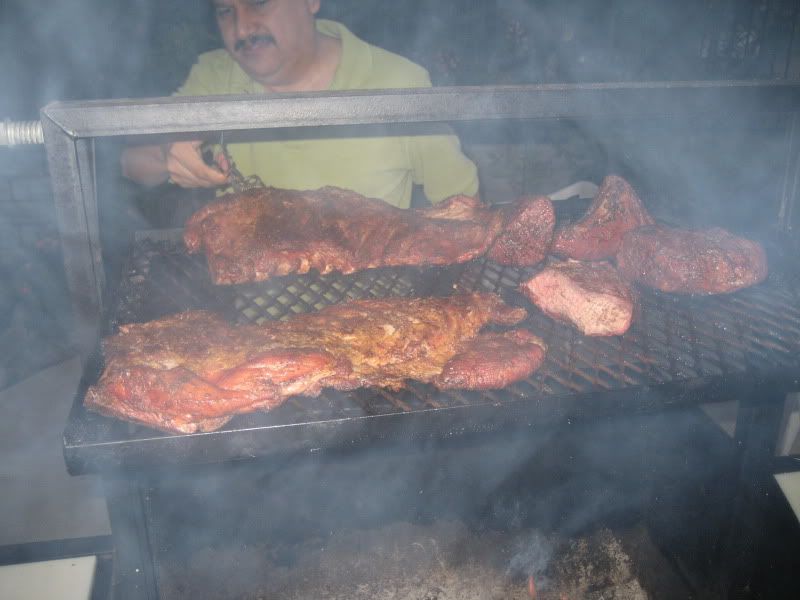 Other good BBQ foods include corn on the cob. Here's one of the gigantor cobs I got last week at the farmer's market. I broke and cut it into 4 segments to get reasonable servings. I cook my corn right away to set the sugar and then eat the stumpy bits throughout the week, or shave it into salad.
And it doesn't get much more American than seeing the Air Force Thunderbirds at an air show. Here they are doing the job that lasts longer than their show: signing autographs and making nice with the public. I made sure to thank the mechanics, particularly. While there are a few women on the team like the announcer and XO, this year none of the main pilots were women. (If they can't have at least one, they aren't looking hard enough, IMHO.) I did get to notice some details, though. The pilots and crew for each plane have the plane number on their uniform and their boots. The guys (and they were all guys this time) with plane number 5 all wore their numbers upside down, because 5's the one plane that gets clearance from the Air Force to actually fly upside down 100 feet or so over the runway. They're all pretty cute. And look about 12 to me.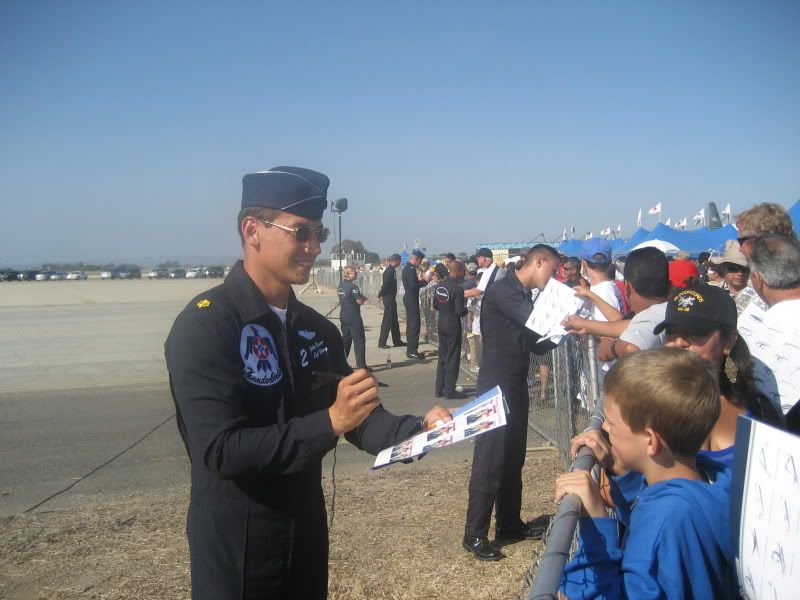 It might seem like an aside, but it really all comes down to this last shot here. I've just finished reading "The Fortune Cookie Chronicles" by Jennifer 8 Lee. I'd seen her talk at the LA Festival of Books, and you might have seen her on the food channel. Her book talks about how American Chinese food really is in this country, from the takeout container to the beef with broccoli to the fortune cookie, this stuff wouldn't exist if Chinese food hadn't come to America. You can also find them anywhere, with eerily similar menus despite almost all restaurants being mom-n-pop shops; they're twice as common as McDonald's! For me, particularly, Chinese food is my go-to comfort food.
So when I showed up at the air show and saw seas of uniform blue tents over the hot dog, hamburger, beer and funnel cake tents, one vendor in particular caught my eye. The very busy "Thai-Chinese-BBQ, Teriyaki Bowl", right next to the big American Flag flying over the Air Force Thunderbirds souvenir tent. It made me feel good about being American.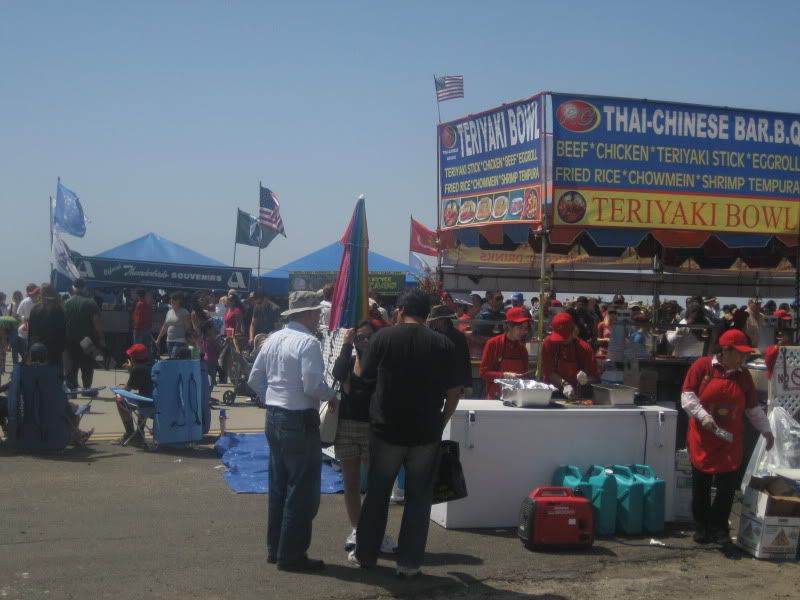 (Fair warning, if you read the Fortune Cookie Chronicles, make sure you have money for Chinese take out handy. I had to go out for mu-shu pork and wonton soup, myself.)